Bus Administrator Contact:
Barron Rogers 828-456-2403 Ext. 5605
barrogers@haywood.k12.nc.us
If you need updated information about late buses, make sure you are signed up to receive those notifications via Connect 5. Please call the front office at 828-456-2403 to get signed up for these phone calls.

Please contact Mr. Rogers by phone or email for bus assignments.

Bus stops are created at specific designated locations and bus drivers must adhere to their route directions and stop locations. Please do not ask your bus driver to make additional stops. Student bus information will come from your child's school. Some stops may change each year as students move in and out of an area so always check with the school when school starts each year to re-confirm this information. WMS is dedicated to providing safe and effective transportation for all eligible students to and from the closest designated bus stop location from and to home. The school's assistant principal is the bus administrator for your child's school.

If your address has changed, please go to your child's school with the proper documentation and fill out a student information change form so this information can be updated in Powerschool.
WMS has Bus Rider Expectations and students are expected to follow them: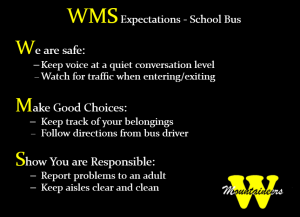 Bus stop times are approximate, so please make sure your students are at their designated stops in plenty of time to be ready for the bus to arrive. The general rule is to be ready 10 mins of either side of your time. Bus drivers do not honk to let you know they are there and can not wait if your child is not at the bus stop.




Please go to

NC School Bus Safety

 for more school bus information and activities.