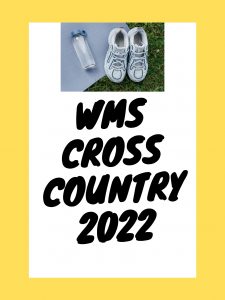 We are planning to start back with optional XC morning workouts the week of August 8-12. Coach Yates & Coach Lopresti will meet interested athletes at the A-Field parking lot next to the Little Gym/football stadium at 8:00 AM each morning that week. We will be finished by 9:00 AM at the latest each day, and pickup will be at the same location. Athletes will want to bring a filled water bottle, good running shoes, and a rain jacket (if weather looks rainy any of the mornings). All rising 6th, 7th, and 8th Grade WMS students are welcome to join in these morning runs.
We will officially kick off our XC practices and season on Monday, August 15 beginning at 3:30 PM. We will be done between 4:45 – 5:00 PM on practice days. Athletes interested in joining XC will need an updated physical, concussion training, and all Family ID paperwork on file and up to date with the school prior to the first official day of practice. They cannot practice with us until all paperwork is current and turned in to the school. 
If you'd like to go ahead and join our XC Remind, through which we'll share all pertinent information as the season approaches, you are welcome to do so. To join, simply text the message @runxcwms to 81010.