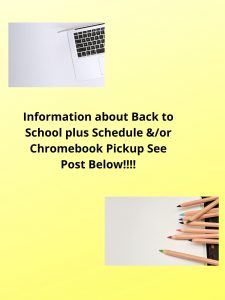 In preparation for the reopening of school all online on August 17th, Waynesville Middle School will be having class schedule, instructional supply, and chromebook pickup in the front loop on the following dates:
Monday, August 3rd for 6th grade
Tuesday, August 4th for 7th grade
Wednesday, August 5th for 8th grade.
Pick up times are between the hours of 8am-12pm and 2pm-6pm each day.
For remote learning, it is essential that your child have a chromebook or other device with online access. Since this is a planned remote learning period, your student will attend live classes on a modified schedule where attendance will be taken and grades will be given. We look forward to seeing you all at the pickup dates.