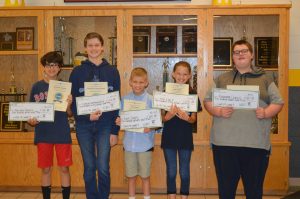 Congratulations to our top readers this school year. Students have been reading and quizzing on books since last August – building and building on their word count, or total words read. Students use the Scholastic Reading Program to quiz on books and each time they pass a quiz, the word count of the book is added to their account. Students that achieve Millionaire status are recognized weekly throughout the year with a certificate, Millionaire candy bar, treat bag, school announcements and special pop up celebrations throughout the year. Each time a student moves up a level in the club, they are once again recognized. The Millionaire's Club is not required of students and grades are not awarded to students that are in this club.
The top five Millionaire's for this school year are:
#1: Alex Caldwell
#2: Kate Clark
#3: Noah Clancy
#4: Cameron Westmoreland
#5: Abraham Ghaussy
Waynesville Middle celebrates all readers that meet their individual reading goal at the end of each nine weeks with a Reading Celebration in the library.  Students will have the opportunity to take quizzes in the school library on designated days throughout the summer (2019) – the details will be sent home with students at the end of the school year. Rising 6th graders may also participate.