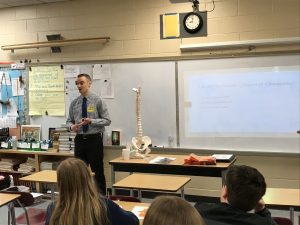 On Friday, February 15th, 2019, Waynesville Middle School hosted a Career Fair for the 8th grade class. Eighth grade counselor, Ms. Tine, reached out to organizations ranging across many disciplines, some across the state, to share their expertise and their career paths. Seventeen main speakers signed up to come, many bringing work partners and other presenters from similar disciplines, averaging at about thirty speakers total! They each presented three times over the course of three hours, and every 8th grade student signed up for three different speaker sessions that matched their career interests.
We are working hard to inform, guide, and help our students learn about the many career and educational opportunities available to them. Middle school is the perfect time for students to begin to match abilities and interests with future careers. These presentations and the information shared were an important part of the career awareness process!
Thank you to administration, counselors, library, and 8th grade teachers for helping with the process. A special thank you to all of the speakers that graciously agreed to present at the career fair!
Engineering: Ms. Pacheco teaches at Haywood Community College.
Social Work: Ms. Phillips from our own Waynesville Middle School.
Construction: Mr. Hall and Mr. Balance from their local construction company.
Small Business: Ms. Laursen on her Hazelwood soap company.
Agriculture: Ms. Heathman from Haywood soil and water research.
Cosmetology: Ms. Francis and guest from a local hair and makeup business.
Arts/Graphic Design: Mr. Clontz teaches and creates graphic designs.
Veterinarian: Mrs. Birthright from one of our local veterinary hospitals.
Parks & Recreation: Mr. Langston and Mr. Miller from Waynesville Parks.
Nursing: Ms. Smith is a local nursing practitioner.
Chiropractor: Dr. Joe from Waynesville's Family Circle Chiropractic.
Flight Attendant: Ms. Brito travels the country as a flight attendant.
Manufacturing: Mr. Jesse spoke on behalf of Evergreen Paper company.
Police/Fire/EMS: WMS's Officer Clancy and guests presented about various emergency services.
Finance: Ms. Hicks came from our local State Credit Union.
Military: ROTC SMSgt Clontz and Air Force MSgt Ingalls attended from Tuscola HS.