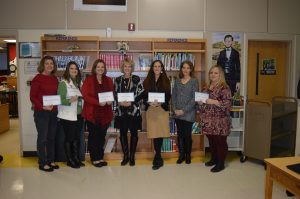 For the second year, the Waynesville Middle School PTA has provided mini-grants to fund special programs, projects, items, and/or events that benefit individual classes, teachers, students and the WMS community. Local businesses and people in the community matched the funds. A total of $1650.00 was raised and funded all the teachers who applied. Each teacher completed a grant application, including items requested and funds required.
Pictured are: K. Kreitzburg, K. Williams, J. Mehaffey, L. Turner, C. Basulto, S. LeRiche, and L. Estes.  Not pictured are E. Hyatt and N. Castater
The grants were used for things such as student incentives, computer programs, classroom materials and supplies for interactive learning games.
The PTA wishes to thank the following businesses:
Abigail's Salon and Spa
Ben & Amanda Hill – Beverly Hanks
Civil Design Concepts
Clark & Leatherwood
Eddie's Cabinets
Gracie Ju-Jitzu
Law Office of Nathan Earwood
Mountaineer Oxygen
Maggie Valley Police Association
True Vine Tree Service