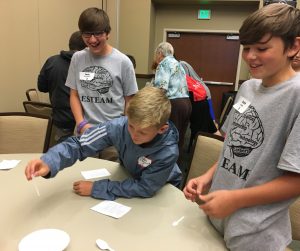 Waynesville Middle School Students have a day of hands on Science at the regional ESTEAM Conference.
On Friday, September 28, 2018 twelve 7th graders from Waynesville Middle School, along with other middle schoolers from Haywood County, participated in the ESTEAM Conference at Southwestern Community College. (The acronym ESTEAM stands for Entrepreneurship, Science, Technology, Engineering, Art, and
Mathematics.)
This event, which is in its sixth year, offers single-gender event sessions allowing students to participate in an adult-like conference in which they experience hands-on, informative sessions from local professionals working in related ESTEAM fields.
This year the 250 participants from Hayesville to Waynesville created an art mosaic inspired by the work of entrepreneurial artist Isaiah Zagar, took part in a NASA experience by using satellite maps to determine reintroduction locations for native river cane, became forensic investigators as they create blood spatters to analyze a crime scene and explored the science behind yogurt as they learned microbiology and molecular Gastronomy.
This amazing event was made possible by the support of the Cherokee
Preservation Foundation, The Science House at NC State University,
BioNetwork, Southwestern Community College, and all the wonderful educators
who volunteered their time as presenters or chaperones.
Pictured above are Jude D., Ashe C., and Sean F.