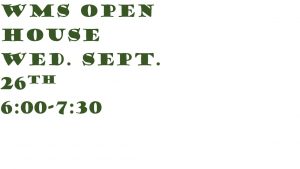 Math I or English I meeting in Bowles Building at 5:30 for 8th grade students currently enrolled in one of these classes.
Internet and media safety: Officer Clancy will facilitate three sessions in the cafeteria.
Session 1: 5:30-6:00
Session 2: 6:15-6:45
Session 3: 7:00-7:30
Sign up sheets will be in classrooms to request a parent teacher conference at a later day/time.
PTA will be selling WMS spirit gear by the main lobby or in the Bowles  Building