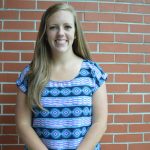 Ms. Casey Roberts has been teaching at WMS for 5 years as an Exceptional Children's teacher. She graduated from Enka High School and received her Special Education Degree from Appalachian State University!
In her free time, Ms. Roberts organizes unified sports and events for all students to participate in!
Hobbies: Spending time with friends and family, visiting the lake, working out.
Everyone loves Ms. Roberts for her passion and dedication to teaching. We are so very proud she is a part of our team.