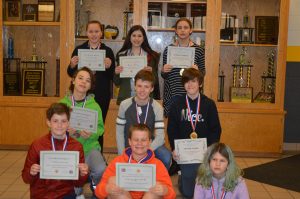 Grade level teams and students participated in our first ever Reading Olympics, which ran from Feb. 9th – Feb. 26th. Individuals and teams were challenged to read books and take quizzes on those books, which generated total words read. It was a fierce battle between students daily to hold onto the top individual spots and team spots. As the school day on Friday, Feb. 26th drew to a close teams were fiercely trying to take one last quiz, while students were battling to become a top medalist for their grade level. Finding their place at the top of the leader board for words read for each grade level were:
Bronze Medalists – 6th: Teagan Laursen   7th: Malachi Sparks   8th: Makayla Reagan
Silver Medalists – 7th: Graham McClelland   7th: Reece Burkhalter  8th: Reagan Mulvey
Gold Medalists – 6th: Vivian Milligan  7th: Connor Adams  8th: Isabelle Morris
Isabelle was also the top medalist for the entire school. She read 1,667,194 words during the two week contest.
Team winners were too close to call!  Ms. P. Kapsalis and Ms. B. Coleman's teams were the top for the school, with the highest average Lexile of books per student and total number of words accumulated.