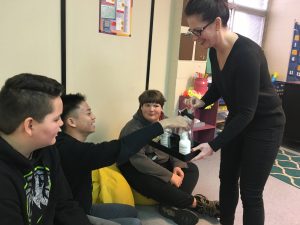 Students Ryker Conrad, Truongan Nguyen and Daniel Massie accept a product sample from Diana Laursen, owner of Hazelwood Soap Company on career day
.
On February 15th Waynesville Middle School hosted a Career Day for eighth grade.  Professionals were invited from the surrounding community from a variety of areas.  A total of fifteen sessions were presented.   Eighth grade students had the opportunity to select three career sessions to attend.  Our professional guests included:
Education – Dr. Bill Nolte
Giles Manufacturing – Chad Haynes
Hi Tech Center Technology – Darrell Frizzell and Doug Cabe
Hall's Construction – Michael Hall
Chef – Timothy Maguire
Finance Edward Jones –  Matt Underwood
Law Enforcement – Officer Tyler Howell, School Resource Office Dave Clancy, and K9 Cobburn
Medical / Health Care – Dr. Allison Johnson
Hazelwood Soap Company (Small Business /Entrepreneurship) – Diana Laursen
Engineer – Ronnie Clark
Dental Hygienist – Katie Arrington
Author / Instructor at HCC – Dawn Cusick
Meteorologist WLOS – Jason Boyer
Mountain Research Center Haywood Soil and Water / Agriculture – Gail Heathman and Kyle Miller
Cosmetology (Small Business / Entrepreneurship) – Melody Francis
Several of our presenters held demonstrations related to their professions such as hair styling, dental care, and a visit from one of our K-9 dogs courtesy of Waynesville Police Department.  Several presenters provided samples for our students such as chap-stick courtesy of Great Beginnings Dentistry, hair care samples courtesy of Abigail's Salon, and some students had the opportunity to taste test some delicious treats from our guest chef, Timothy Maguire.
Students were engaged during the presentations.  Many took notes in each session which they will use for a career project in ELA class.  Jalynn J. stated the construction session was her favorite.  Noah B. expressed, " I will remember for the rest of my life when the chef said I do my job, and I do it hard, but I've never worked a day in my life. He gave me advice to do what I love."  Makenzie R. enjoyed her time spent in the author session.  While Talance K. reflected on the construction session with the following remarks, " He changed my thoughts about construction, and now I am thinking about taking these types of classes in high school."
Organizer and WMS school counselor, Dr. Anette Husson, shared, "There were many favorable comments from students, presenters and teachers regarding our career day. Many students loved having the opportunity to learn about careers from people currently on the job.  The feedback from student, presenter, and teacher surveys will be used to plan future career days."