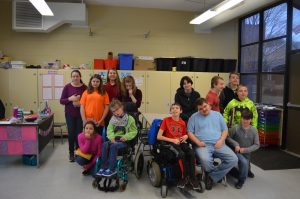 Team Incredibles were among the winners for the Commission For a Clean County in the 2017 "Community Pride" Awards program. Awards are given for litter control, recycling, special beautification efforts and general environmental stewardship.
For about the past five years, Team Incredible's has worked once a week collecting recyclables from classes and the hallways of WMS.  This school year, 17 students were divided into four groups and given an area of the school to work. The students collect the recyclables and place them in large bags, which are then emptied into a recycling dumpster.
Recycling with The Incedibles is helping WMS manage their waste and teach kids the importance of recycling.