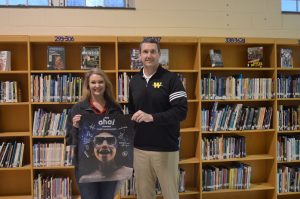 Peak Energy and ExxonMobil awarded Waynesville Middle School a $500.00 grant toward math and science. Peak Energy is a leading petroleum marketing and retailing firm with offices, convenience stores, restaurants, and heating oil services throughout the southeast.  Peaks Energy employees, their families and customers have students that benefit from our local schools and they are proud to help support them.
The grant funds will be used in the WMS math and science departments.   This is the 14th consecutive year for the program and this year Peak Energy supported 16 schools in Western NC with grants totaling $8000.00.
Presenting the award is Jessica McCoy, Director of Operations for Peak Energy/TimeOut Markets and Mr. Trevor Putnam Principal, WMS Principal.