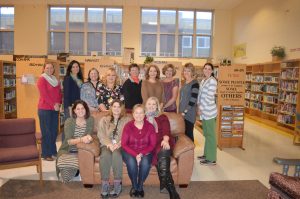 The WMS PTA was honored to provide mini-grants to fund special programs, projects, items, and/or events that benefit individual classes, teachers, students and the WMS community. The funds were matched by local businesses and people in the community.  A total of $2600 was raised and funded to the teachers who applied.  Each teacher filled out a grant application to share what they needed, the amount needed and why they wanted the items requested.  The grants were used for things such as dry erase markers, sleeve protectors, items for instruction, incentives for the students, supplies for STEM projects, etc.
A big thank you to those businesses and parents who donated matching monies in order to reach our goal of $2600:  Hazelwood Soap Company, Abigail's Salon & Spa, Pioneer Supply, Elliott Paige Events & Design, Gracie Jiu Jitsu, Affordable Cleaning Solutions, Blue Ridge Orthodontic, The Mallette Realty Team, 2 Anonymous WMS Parent Grants, Angie's Dance Academy and Duke Lifepoint.
We are super thrilled to be able to work with such an amazing community who continually pours back into the school, teachers and students!  Thank you everyone for your participation in helping our teachers make the learning experience one our students will not forget!
Seated: Farris Rogers, Kelly Williams, Elaine Hyatt, Jennifer Kelly
Standing: Danyiele Hyatt, Amanda Wells, Sherri Hill, Linda Estes, Karla Phillips, Sherri LeRiche, Karen Kreitzburg, Laura Turner, Laurie Bass