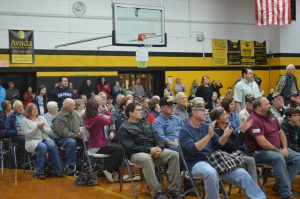 WMS students, including our band, chorus and student government, hosted our annual assembly to honor Veterans.  The male tenor and bass vocalists from Mrs. Stephens chorus group sang a Civil War era song "Tell My Father" with a solo by Jason Frazier. The band performed the National Anthem as well as the March of the Armed Forces that included the song for each branch of the military. As each branch's song was played, veterans belonging to that specific military branch were invited to stand so they could be honored.
At the end of the assembly, Trevor Gonzalez and Blake Dills played Taps to honor all Veteran's past and present.
Following the event, the veterans and their families were invited to enjoy a reception in their honor in our cafeteria.