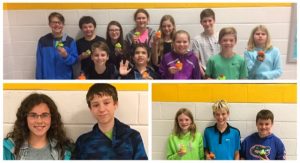 The students that are in the Millionaire's Club enjoyed delicious cupcakes Monday during lunch. Currently there are about 18 students that have read at least a million words so far this year. Two of the students in this picture are at Level II with over two million words to their credit – 6th grader Hudson Blackburn and 8th grader Zoe Mina. Several more students are super close to reaching that "magic" million mark!
There will be more pop up surprise celebrations for these students periodically throughout the school year.
Congratulations to all in this elite club.