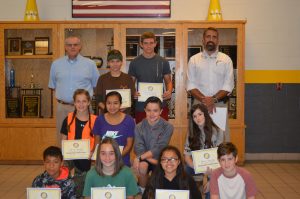 6th: Abbie B., Roseana C., Diego HM.
7th: Coline D., Lilyanne C., Jacqueline R.
8th: Jason F., Brooke S., Clint F.
Encore: Teagan L., Taylor S., Hannah C.
Presenting from the Waynesville Rotary: Lewis Clark and Bruce Kingshill
September's character trait is RESPONSIBILITY.
Responsibility involves being dependable and reliable and committed to following through on obligations. It includes demonstrating a variety of positive character skills such as self-control, perseverance, initiative, effort and goal setting.
Demonstrating responsibility in all areas of life is an important part of being successful and becoming a person of character.